Главная
» License to employ foreign workers
License to employ foreign workers
The process of obtaining / extending a permit (license) for foreign specialists for employment in Uzbekistan is regulated by the Regulation "On the order of attraction and use of foreign labor force in the Republic of Uzbekistan"#№ 244 dated 25 of March 2019.
The license is issued by the Agency for External Labor Migration under the Ministry of Employment and labor relations of the Republic of Uzbekistan for a period of 1 year.
State fees are:

1 basic estimated value (270 000 UZS) for reviewing 1 application;
30 basic estimated values for 1 license (8 100 000 UZS) for specialist.

All the fees need to provide from Bank account of Uzbek enterprise.
List of documents required for obtaining a permit for foreign specialist:
1. copy of the passport of the Director of Uzbek enterprise;
2. copy of the certificate of registration of Uzbek enterprise;
3. copy of a document confirming the payment (payment order);
4. EDS of Uzbek enterprise;
5. a copy of the foreign citizen's passport, including a copy of the current visa and temporary registration in Uzbekistan;
6. certificate of testing for HIV antibodies (accepted only from AIDS centers of the Republic of Uzbekistan, AIDS centers of the Republic of Karakalpakstan, regions and Tashkent);
7. photos of foreign citizen 4 pcs. (3x4).
To extend a previously obtained license, the list of documents is similar, the original of the previously issued permit is attached.

If a foreign employee is on the territory of Uzbekistan at the time of applying for the license, the documents are accepted only if one of the following visas is available: work visa by type «E»; business visas by type «B-1»; «B-2»; official visa by type «S-3»

Price for our service: 1 700 000 UZS
Time line: 1 week.


Sample of the license for a foreign employee: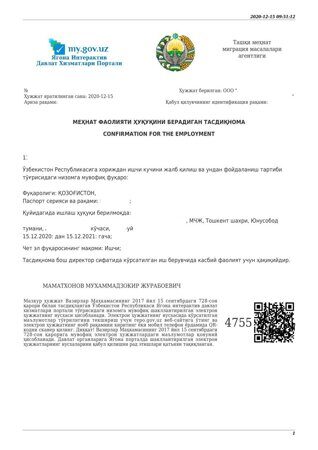 License to employ foreign workers, license for foreign staff in Uzbekistan, license for foreign staff in tashkent, to work in tashken, to work in Uzbekistan, foreigners in tashkent, foreigners in uzbekistan, what you should know about tashkent, what you should know about uzbekistan, to work and live in tashkent, to work and live in uzbekistan