Главная
» License to employ foreign workers
License to employ foreign workers
The process of obtaining/extending a permit (license) for foreign specialists for employment in Uzbekistan is regulated by the Regulation "On the approval of a single regulation on the procedures for individual documents of a permissive nature through a special electronic system" #№ 86 dated 22 of February 2022.

The license is issued by the Agency for External Labor Migration under the Ministry of Employment and labor relations of the Republic of Uzbekistan for a period of employment contract (but not more than 1 year).
State fees are:

1 basic estimated value (300 000 UZS) for reviewing 1 application;
30 basic estimated values for 1 license (9 000 000 UZS) for specialist.

List of documents required for obtaining a permit for foreign specialist:
1. copy of the passport of a foreign specialist (including a page with an entry visa* and temporary registration);
2. copy of the passport of the Director of Uzbek enterprise;
3. copy of the certificate of registration of Uzbek enterprise;
4. photo of a foreign specialist 1 pc. (3x4);
5. color scan of the diploma of education.

*a copy of the passport with a visa need to be provided if the citizens of foreign states with which a visa regime has been established. At the same time, it is allowed to accept documents if only the following types of entry visas are available: work visa "E", business visas "B-1" and "B-2", official visa "S-3" or other types of visas provided for compatriots.

Foreign specialists who are owners/shareholders of joint or foreign enterprises operating or being created in the territory of the Republic of Uzbekistan, for a period of up to three months, have the right to work without this permission. Before the expiration of three months, these specialists are required to issue a labor permit (license).
To extend a previously obtained license, the list of documents is similar, the original of the previously issued permit is attached.

Price for our service: 1 700 000 UZS
Time line: 15 business days


Sample of the license for a foreign employee: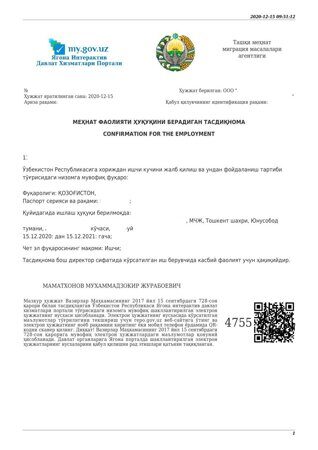 License to employ foreign workers, license for foreign staff in Uzbekistan, license for foreign staff in tashkent, to work in tashken, to work in Uzbekistan, foreigners in tashkent, foreigners in uzbekistan, what you should know about tashkent, what you should know about uzbekistan, to work and live in tashkent, to work and live in uzbekistan