Главная
» License to employ foreign workers
License to employ foreign workers
process of obtaining/extension of a permit (license) for employment of foreign workers by legal persons located in Uzbekistan are regulated by the Regulation "ON THE ORDER OF ATTRACTION AND USE OF FOREIGN LABOR FORCE IN THE REPUBLIC OF UZBEKISTAN" download
.
The license is issued by the Agency for External Labor Migration under the Ministry of Employment and Labor Relations of the Republic of Uzbekistan for a period of 1 year.
State fees are:

1 minimum wage (223 000 UZS) for reviewing 1 application;
50 minimum wages (11 150 000 UZS) for permission to attract foreign labor;
30 minimum wages for permission (6 690 000 UZS) for activity of the specialist.

All the fees need to provide from Bank account of Uzbek enterprise.
List of documents required for registration:
For Companies:

1. an extract or copy of the minutes of meeting of founders of the company and the order on the appointment of the Director;
2. copy of the passport of the Director;
3. copy of the Charter and Founding Agreement of the Company;
4. copy of the certificate of registration of Company;
5. copies of the bank documents on payments (payment orders);
6. EDS of uzbek enterprise.
For foreigners:

1. A copy of a foreign citizen's passport, including a copy of the visa and temporary registration;
2. A certificate of the HIV-negative status of the applicant (only AIDS centers of the Republic of Uzbekistan, AIDS centers of the Republic of Karakalpakstan, regions and Tashkent city centers certificates are accepted);
3. Photos 6 pcs. (3x4);
4. A copy of a document confirming the payment (payment order).

For the prolongation of the previously obtained license, the similar list of documents, accompanied by the original of previously issued license, is required.
If a foreign worker during the submission of documents for obtaining the license is located on the territory of Uzbekistan, the documents are accepted only in case of presence of one of the next visas:
- Work visa «E»
- Business Visa «B-1», «B-2»
- Official visa «S-3»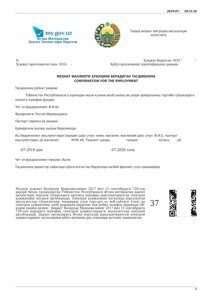 1 week.

License to employ foreign workers, license for foreign staff in Uzbekistan, license for foreign staff in tashkent, to work in tashken, to work in Uzbekistan, foreigners in tashkent, foreigners in uzbekistan, what you should know about tashkent, what you should know about uzbekistan, to work and live in tashkent, to work and live in uzbekistan